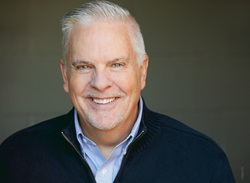 MICHAEL L. JACKSON
Hello, my name is Michael L. Jackson and I am the Principal Agent and President of Seventh House Talent. Our Talent Agency opened in 2012, and has grown in stature and respect throughout the industry in just five short years. In 2016 we added another member to our team, Kim Vastino, who is our very capable and enthusiastic Executive Assistant and is responsible for client roster maintenance and key administrative duties.
Prior to the formation of Seventh House Talent, I worked as a partner in a principal talent agency in the Toronto area. We successfully represented and placed talent in many venues. In theatre, we had performers in Mirvish shows (CRAZY FOR YOU, BEAUTY AND THE BEAST and OLIVER!) and Live Ent. musicals including SHOWBOAT and PHANTOM OF THE OPERA. We also had engaged "triple threat" performers with Stage West, Carnival Cruise Lines, Royal Caribbean Cruise Lines and Disney Cruise Lines. We also enjoyed success in TV, film work and commercials (local, Canadian, US and World Wide distribution).
Today, Seventh House Talent now represents a broad spectrum of performers. In 2016, our roster performed across Canada in film, TV, TV commercials, musical theatre and professional theatre roles. They appeared around the world, including New York City, Shanghai China (Disney), and on cruise ships throughout Asia and the Caribbean. In 2017, we have placed clients at The Stratford Festival (Guys and Dolls, Romeo and Juliet, HMS Pinafore) and in many major theatrical companies in Canada. We also represent some of the very best new graduates from Performing Arts Colleges and Universities across Ontario and our roster includes choreographers and music directors. We are also members of Casting Workbook, Breakdown Express and follow the Code of Ethics of the E.I.C. (Entertainment Industry Coalition).
Personally, my wife Janet Venn-Jackson is the Program Coordinator at St. Lawrence College in Brockville, Ontario overseeing and teaching in their three-year Musical Theatre Performance Program and in their new co-delivery of a Bachelor of Music Theatre Program in association with Queen's University.        Janet previously worked as a professional dancer (A.C.T.R.A.) including C.B.C. and Global Television as well as performing in over fifty professional events during her career. She also ran a very successful competitive dance school for over 25 years. In addition to her College work, she continues today as a dance adjudicator, jazz and tap dance examiner (ADAPT), and as a choreographer across Canada and the U.S.A.
Both of our children have had extensive musical training in piano, vocals, strings, music theory and dance.   Our daughter is now a professional violist in Australia and was both a competitive dancer and actress, highlighted in her role in the classic Disney film THE SANTA CLAUSE. Our son also trained as a triple threat performer – professionally realized when he was cast in the Mirvish production of OLIVER! for an extended run at the Princess of Wales Theatre in Toronto.
Our goal at Seventh House Talent is to keep our roster small and personalized.
We have a well-balanced team of highly skilled performers and industry specialists.
Seventh House Talent strives to reflect Canada's multicultural vista, in age, gender and ethnicity, meeting the demands of today's entertainment industry.