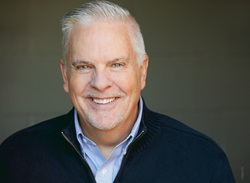 MICHAEL L. JACKSON (President)
Hello, my name is Michael L. Jackson and I am the Principal Agent and President of Seventh House Talent
Incorporated. Our Talent Agency opened in 2012 and has certainly grown in stature and respect throughout the industry in a few short years! In 2016, we added another member to our team, Kim Vastino, who is now our very capable and enthusiastic Executive Assistant and is responsible for client roster maintenance and key administrative duties.
Prior to the formation of Seventh House Talent Incorporated, I worked as a partner in a successful Principal Talent agency in the Toronto area. We successfully represented and placed tour roster members in many venues. In Theatre, we had performers in Mirvish shows (CRAZY FOR YOU, BEAUTY AND THE BEAST and OLIVER!) and Live Ent. musicals, including SHOWBOAT and PHANTOM OF THE OPERA. We also had engaged "triple threat" performers with Stage West, Carnival Cruise Lines, Royal Caribbean Cruise Lines and Disney Cruise Lines. We have also enjoyed great success in TV, Film work and commercials including local, Canadian, US and Worldwide distribution securing actor, principal and lead roles.
Today, Seventh House Talent represents a broad spectrum of performers. Recently, our roster has performed across Canada in Film roles, TV, TV commercials, Theatre and Musical Theatre. They have performed around the world, including New York City, Shanghai, and Paris, and on cruise ships throughout Asia and the Caribbean. Since 2017, we have placed clients at The Stratford Festival (Guys and Dolls, Romeo and Juliet, HMS Pinafore, The Music Man, Billy Elliott) and most professional theatres from coast to coast across Canada. We also represent some of the very best new graduates from Performing Arts Colleges and Universities in Ontario.
Our roster now also includes professional Artistic Directors, Directors, Choreographers and Music Directors, giving us even broader knowledge and current updates from the casting room! We are also members of Casting Workbook, Breakdown Express and follow the Code of Ethics of the E.I.C. (Entertainment Industry Coalition).
Personally, my wife Janet Venn-Jackson is a Professor and the Program Coordinator at St. Lawrence College in Brockville, Ontario, overseeing and teaching in their three-year Musical Theatre Performance Program and in their new co-delivery of a Bachelor of Music Theatre Degree in association with Queen's University. Finally, even our children were successful in the professional entertainment industry, appearing in OLIVER! (Mirvish) and the Disney Film THE SANTA CLAUSE.
Combine all this together, and we feel we have created an Agency that knows and respects their clients, working in partnership with them to find opportunities and is widely recognized across the country as a high quality, respected team of professionals who have the contacts and the knowledge to help talented performers book successfully in the broad spectrum of today's entertainment industry!
We keep our roster small and highly personalized.
We maintain a well-balanced roster of highly skilled performers and industry specialists.
Seventh House Talent strives to reflect Canada's multicultural vista, in age, gender and ethnicity, meeting the demands of today's entertainment industry.